30 November 2020
YMCA drives social value through ActiveXchange
YMCA South Australia has partnered with leading data science analysis company ActiveXchange to drive our aim of increasing social value across all YMCA programs and activities.
ActiveXchange, through the SportsEye platform, uses real and current data to enable recreation centres to accurately assess the needs of their local communities and subsequently provide programs and services that directly address those needs.
The ActiveXchange Social Value Process is a model that assesses social value indicators across the reduced risk of cardiovascular disease, breast cancer, bowel cancer, type 2 diabetes and dementia, as well as mental health benefits, health system savings, increased productivity, increased educational outcomes and reduced risk of drowning.

Sample data from The Parks Recreation & Sports Centre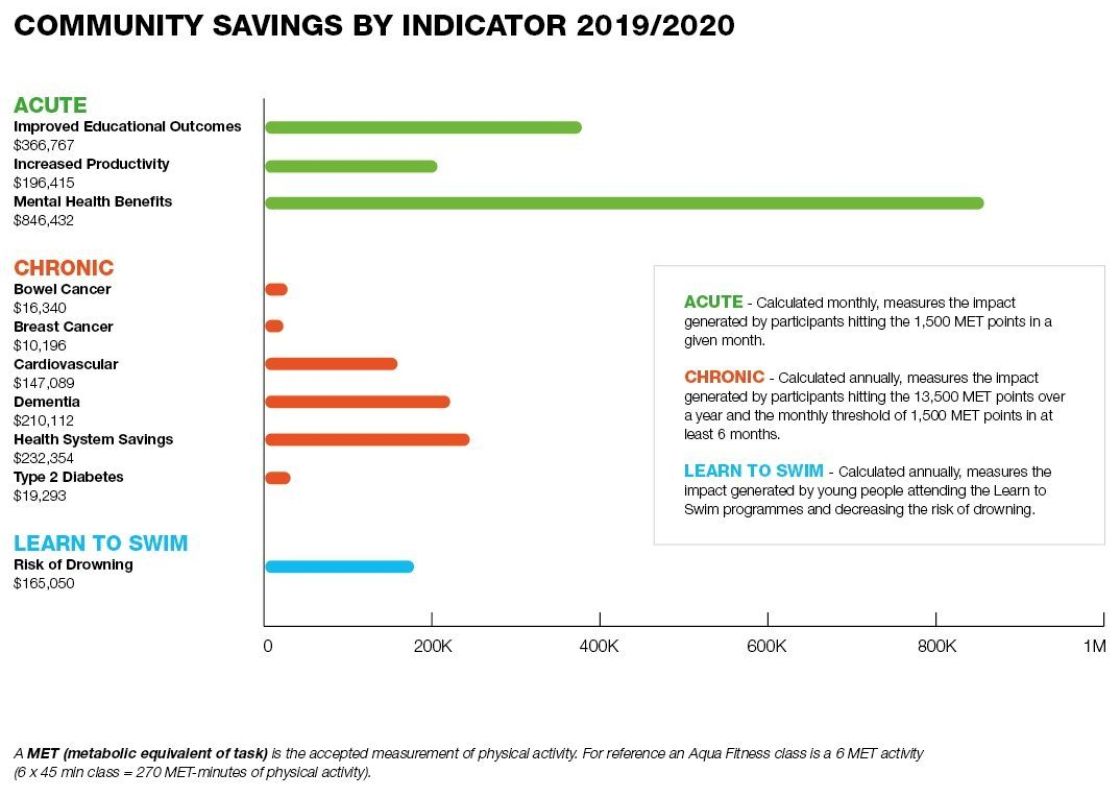 YMCA South Australia has used the process to deliver positive outcomes after both COVID-19 closure periods, bouncing back quickly to ensure the highest level of social impact across the communities we serve.
Most notably we will focus on the engagement of members from the lowest income areas with our recent results in this demographic measuring 34 per cent compared to the industry average of 23 per cent. We have also ensured older members remain active, with an average of 6.5 visits per month by those aged over 65, compared to 2.5 visits per month average for the industry.
YMCA SA has generated $10.5 million in annual savings across our communities over the last financial year despite the COVID challenges. Twenty-nine per cent of this was across mental health outcomes, followed by 16 per cent on dementia, 14 per cent on improved educational outcomes and 10 per cent on cardiovascular disease.
Chief Operating Officer, Andrew Mundy, said the YMCA in South Australia has adopted a data driven approach to align how venues continue to meet the needs of local residents, particularly those who are most vulnerable.
"SportsEye is helping us continue to plan then evidence the impact of decisions," he said.
Further insight within the SportsEye YMCA account helps us guide targeted operational and marketing decisions to ensure venues continue to reflect up to date trends, tailored to meet the needs of each local community. Our partnership with ActiveXchange will continue to work to support, protect and then grow health and wellbeing outcomes.

Andrew Mundy — COO
Watch the video below for more information about YMCA South Australia's partnership with ActiveXchange.